Playathon is a game design challenge organised for students, game designers and anybody who is passionate about designing digital games for school children.The participants can choose any academic topic to design a digital game for students of classes 4th to 8th.
Playathon is open to people who are interested in game designing or are independent gamers. People can enroll as individuals or teams (not comprising more than three members).
Once the participants register, they will be given an entry form with a design template. The last date for sending in the entries is February 12, 2018. Kindly register using https://goo.gl/GAXaYF
From among the entries, 10 participants will be shortlisted to be assessed by a jury comprising of game designers and experts in the field of play and learning. The winners of the design challenge will be declared at the International Play Conference on March 3, 2018. Each winning entry will get prizes ranging from Rs. 15,000 – Rs. 5,000.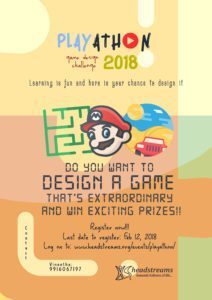 Terms and conditions
• The rights of the winning entries will rest with the organisers of Playathon and will be chosen for further development of learning games and licensed freely for non-profit use under a Creative Commons Attribution-Non Commercial-Share Alike 4.0 International License.
• By submitting an entry or accepting a prize, you represent and warrant the following: you will not submit content that is copyrighted, protected by trade secret or otherwise subject to third party intellectual property rights or other proprietary rights, including privacy and publicity rights, unless you are the owner of such rights or have permission from their rightful owner to post the content; and the content submitted by you does not contain any viruses, Trojan horses, worms or other disabling devices or harmful code.
• Designs can be prepared by individuals or a team of 3 members (maximum)
• Game to be designed should focus on a learning outcome which can be either academic or life-skills based
• Target audience – the design should be created keeping in mind the end users, i.e., students between the age range of
9-12 years
• The last date for registering is February 12, 2018
• The design template should be filled and sent to us on or before February 19, 2018
• Shortlisted participants will be intimated within a week to prepare for the final presentation to the Jury members
• The winners of the design challenge will be declared at the headstreams Play Conference on March 2018.
FAQs
Q. Do I have to pay to register in this challenge?
A. No. The registration is absolutely free.
Q. Should I be affiliated with a college to take part in this challenge?
A. No. You can participate as an individual.
Q. Is it game designing or game developing?
A. It is game designing and not developing. That means you do not have to do programming for the game. You just need to present the concept in the given template and what is the learning outcome that it focuses on.
Q. Will I be given any form of certification for the game design?
A. Yes. You will be given credit for the work that you present to us. Selected winning entries will be chosen for further development of learning games and licensed freely for non-profit use under a Creative Commons Attribution-Non Commercial-Share Alike 4.0 International License.
Q. Are there any prizes that I would be getting?
A. The winners would get a cash prize ranging Rs.15,000- 5,000
Q. What would be the template in which we have to send in the details?
A. Game Name:
Designed by: (Your company/Team name/logo)
Team Members: (List all team members who worked on the design)
Version: (Tag a version number for the document, for instance 0.0.1)
Date: (Today's date)
Objective:
Target Audience:
Mention the target audience that this game is being designed for. Be specific, for instance mention age group, gender, children with special needs, any other attributes you have in mind.
Target Platform:
Mention the target platform that this game will be played on. For instance, would it be played on personal computers or on mobile devices like smart phones?
Learning objective:
List the 3 key learning objectives that is being addressed through this game.
Overview:
Game Theme / Genre:
Mention the genre of the game being conceptualized. For instance is it a Platformer, action game, racing, quiz. Also, explain why you chose this game.
USP – Uniqueness:
What is unique in your game, what sets it apart from other games that are available for the target audience? Please ensure that you research well.
Player Aim:
Mention what is the key aim or goal of the player while playing the game. For instance, 'save the princess from the dragon'.
Story or Narrative in brief:
Is there a story linked to your game that helps set context. If yes, please write down a brief outline of the story, not exceeding 12 lines. In case you do not have a story or specific context for the game, you could mark this as 'N/A'.
Game visuals:
Please save concept sketches and gameplay sketches that describe your game and its core gameplay. Be sure not to use any material or artwork that is protected by copyrights.
Influences:
Please list other games, movies, literature or content that this game design is influenced by.
Additional notes:
Please feel free to list any additional notes, thoughts, assumptions and references under this section. Including Gameplay, Gameplay mechanics or story in detail.